Best Pod Coffee Maker – While some hardcore coffee-lovers might argue that simply inserting a capsule is cheating and somehow devaluing the coffee-brewing process, in an age when convenience is very high up on our priority list, more than ever before, many of us are not just content with technology offering us the possibility to make our own coffee; we want it fast, brewed to a high standard and most importantly – with practically zero effort.
And that's where Pod Coffee Makers fulfil a purpose that for the majority who either haven't got the time to waste thinking about 'one more thing' in the morning or just can't be bothered to think about the ins and outs – I think if we're honest, we just want to hit 'go' so we can too!
What's a Pod Coffee Maker?
The basic idea with pod coffee makers is that rather than faffing around with ground (loose) coffee, you simply add a pre-packaged pot (AKA pod) of coffee – wrapped in filter paper much like a tea bag, into the machine, press a button and job's a good'un!
The Benefits?
Simple – so as we've mentioned it's just that simple. Pop in your pod – which come in all types of flavours and blends, and hit the button; there's nothing too it really!
Affordable – compared with many models included in the overwhelming range of coffee machines on the market, the pod coffee makers available do not require deep pockets. They're conveniently useful as well as being conveniently affordable.
Efficient – many pod coffee makers are brilliantly efficient. There's very little risk of loose coffee spills that would need cleaning up, very small amount (if any) preparation time and barely any clean up. They'll fit perfectly in with people's busy schedules where time is too precious to waste.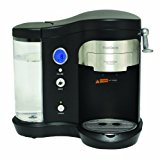 This Suncana is a stylishly little model with a reputation to match for producing coffee to an excellent standard and with a nice layer of foam. It comes in a variety of colours, a feature which extends to its useful LCD display to show you when it's heating before brewing and red light indicating it's on and ready to go!
Although the manufacturer is not necessarily up there in terms of renown due to the fact that their machines and pods are apparently quite hard to get a hold of, it would seem that many would recommend that's exactly why you should snap this up, while you can.
→ Get the Suncana H701A-BLK Pod Brewer on Amazon!
Features:
LCD Display
Removable Drip Tray
Programmable Volume Settings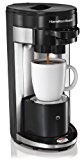 Looking for the best in convenience and flexibility to allow you to make the most of your mornings? This Hamilton Beach FlexBrew Single Serve Coffeemaker has been designed with you in mind.
Unlike a lot of its home-brewer competitors, this coffeemaker is compatible with not only a variety of coffee-sourced products (incl. K-pods, ground-coffee etc) rather than just its own-brew but also a variety of tea pods for all you herbal types out there! It's built for convenience – and even includes a 'Quick Start' guide to get you up and running quickly and easily, and at such a competitive price, proving that affordability doesn't mean you have to compromise on quality.
→ Get the Hamilton Beach 49995 FlexBrew on Amazon!
Features:
Compatibility
Best Comparable Coffee Extraction
Affordable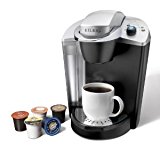 This Keurig really is simplicity at its finest. Purpose built for high volume use with heavy gauge materials that promise you durability, so from your first cup of coffee it'll produce the goods again and again.  With pretty much zero-prep, zero-clean up and just a mind to keep the reservoir filled up, you press a button and the machine takes care of the rest.
Even the overall look and design of the machine is based around the simple idea that many of us want great-tasting, good-quality coffee quickly and efficiently. Well Keurig have delivered just that!
→ Get the Keurig OfficePRO on Amazon!
Features:
3 Cup-Size Choices
Internal Water Tank
Durability
For many Cuisinart (owned by parent company Keurig) offer the solution to the problems with reliability many have experienced with Keurig machines. And after even just a quick glance over the specs for this SS-700 Single Serve Brewing System you can rest assured that this machine has what it takes to deliver the goods!
The only thing I would argue is it lacks the aesthetic quality, which you would definitely want from this addition to your kitchen. It's part of the fun of showing it off and while it ticks all the bullet points for functionality, we don't just want a product to fulfil a practical use but also to blend in to its surroundings and bring that certain 'something' to the table; especially after spending that kind of money too!
→ Get the Cuisinart SS-700 Single Serve on Amazon!
Features:
Large Capacity Water Reservoir
5 Cup-Sizes
Reliability